Cooloola Great Walk - All Inclusive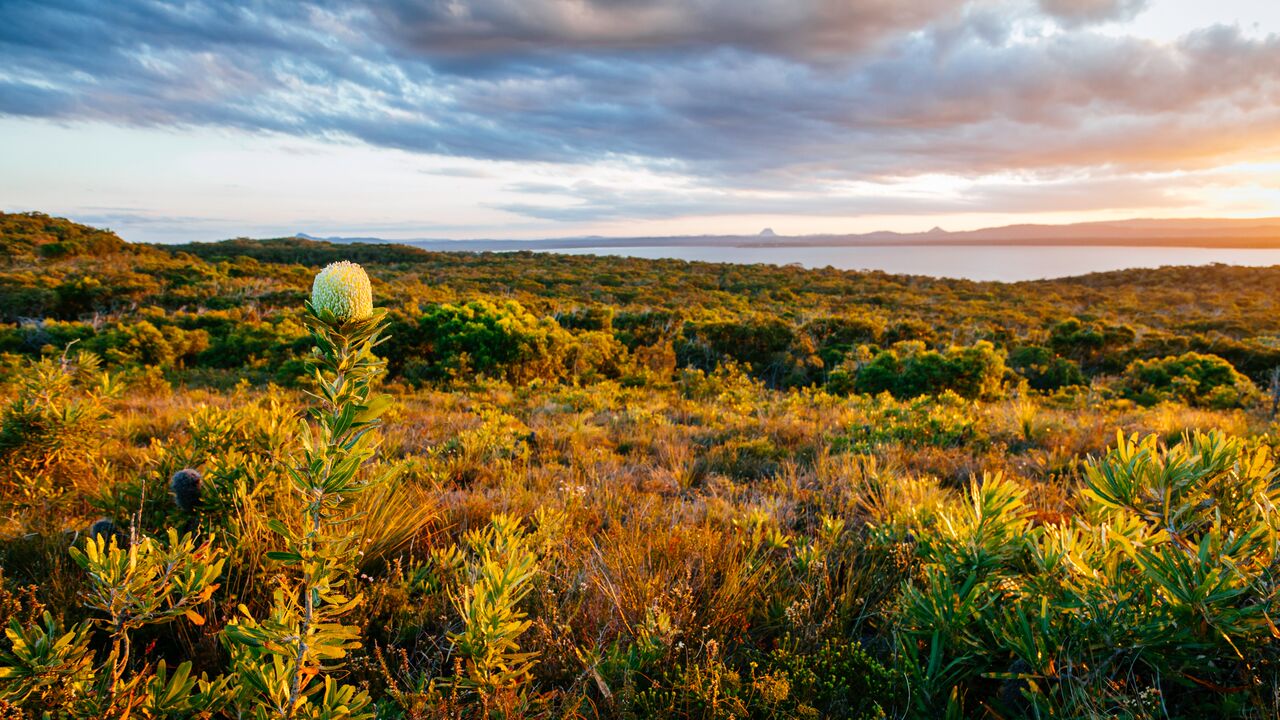 Duration: 6 Days (approx.)
Location: Noosa, Queensland
Product code: CGW-All
Book Now
Dust off your walking boots and get ready to do The Cooloola Great Walk!

Welcome to The Cooloola Great Walk a new bushwalking experience for 2018. It is an unforgettable 88 km., 5-day, 4-night journey of discovery hiking across 500,000 year old sand dunes covered in ancient sub-tropical rainforest, coastal heath and towering eucalypt forests and perched lakes.
Cooloola is the Gubbi Gubbi word for the sound the wind makes as it whispers through the branches of the trees. Walk along the Noosa River Everglades, one of only two everglade system in the world. Take in views of the deep Pacific Ocean where migrating Humpback whales can be seen playing. It is home to rare plants and wildlife: Ground parrot, Glossy Black-cockatoos, Cooloola sedgefrog, Feathertailed glider, koala and wallabies.
This fully-guided, self-sufficient hike, links the Noosa Northshore to Rainbow Beach via the 500,000 year old
Cooloola Sandmass which forms unique dune, perched lake and vegetation systems. To the west lies the unspoiled 'River of Mirrors' the Noosa River and the stark volcanic crags formed over 25 million years. To the East is Teewah Beach and Pacific Ocean where migrating Humpback whales can be seen.

This is a true hiking adventure, we carry our own camp gear, food, water and personal items. National Parks does not allow open fire, therefore we cook with small, fuel burning stoves allowing us to have hot meals and hot drinks throughout the tour. Typically breakfasts consist of cereals/porridge/oatmeal. Lunches are sandwiches, wraps or crisp breads. Dinners are light-weight meals cooked on a stove. Tea, coffee and hot chocolate are available. Your guide will do the washing up (unless you really want to help)
There are four (4) walkers' camps designated by Queensland National Parks, with raised platforms for seating, preparing meals and managing gear. Toilet (long drop) and fresh rainwater is available.There is plenty of time to relax, bird watch, encounter wildlife and appreciate the scenery and the amazing night skies. We access these sites with group sizes of 2-7, ensuring that we have minimal impact on the environment.
Designed to hold you captivated for 5 days, the Cooloola Great Walk offers a chance to unplug and reconnect with nature in a wilderness landscape.We invite you to share this wonderful natural world in small groups of six and an accredited and passionate Tour Leader. The walk is fully supported by a professional team for your safety and comfort.
Inclusions:
All camp gear, equipment, meals and drinks on the walk.
Camp gear: 75 lt. backpack, screen tent/fly, 3/4 length 'Thermarest' self-inflating mattress, sleeping bag, liner and pillow and walking poles.
1 night pre-walk accommodation, nibbles, drinks and dinner at Noosa Northshore Transfers from Noosa to Noosa Northshore accommodation
Celebration lunch, including drinks, at Rainbow Beach Surf Lifesaving Club
Transfers from Rainbow Beach to Noosa after celebration lunch (Day 5)
Guide
Camping permits
Topographic map, Queensland Govt.